Discover Rembrandt's love story
Love. It is the most beautiful feeling in the world and has an individual meaning to each and everyone of us. During our Loving Rembrandt exhibition, Designer Outlet Roermond celebrates the Year of Rembrandt. There is even an original Rembrandt masterpiece on display that portraits his love for his first wife, Saskia. Want to know the best part? This beautiful masterpiece will go to someone's home after the exhibition in Roermond...find out here who's the lucky winner!
In this etching, the thirty years old Rembrandt portrayed himself confidently looking up, while holding a porte-crayon (a two-ended chalk holder) and appears to be drawing on the sheet of paper before him. Behind him he portrayed his first wife Saskia van Uylenburgh (1612–1642), whom he married just two years earlier. Rembrandt most likely met Saskia while working for her cousin, Hendrick Uylenburgh, an art dealer who had a workshop in Amsterdam. The two married on June 22, 1634 and remained together for thirteen years until Saskia's untimely death at the age of 30.
Saskia is said to have been very agreeable to the customers and because she was of high descent, she introduced him to a well-to-do seventeenth century Dutch clientèle. One is inclined to imagine Rembrandt felt a certain proudness for his Saskia, and by means of this print he communicates that to his buying audience.
Although Rembrandt has often painted and drawn his wife, of his entire graphic oeuvre, this is the only portrait of Rembrandt together with his wife.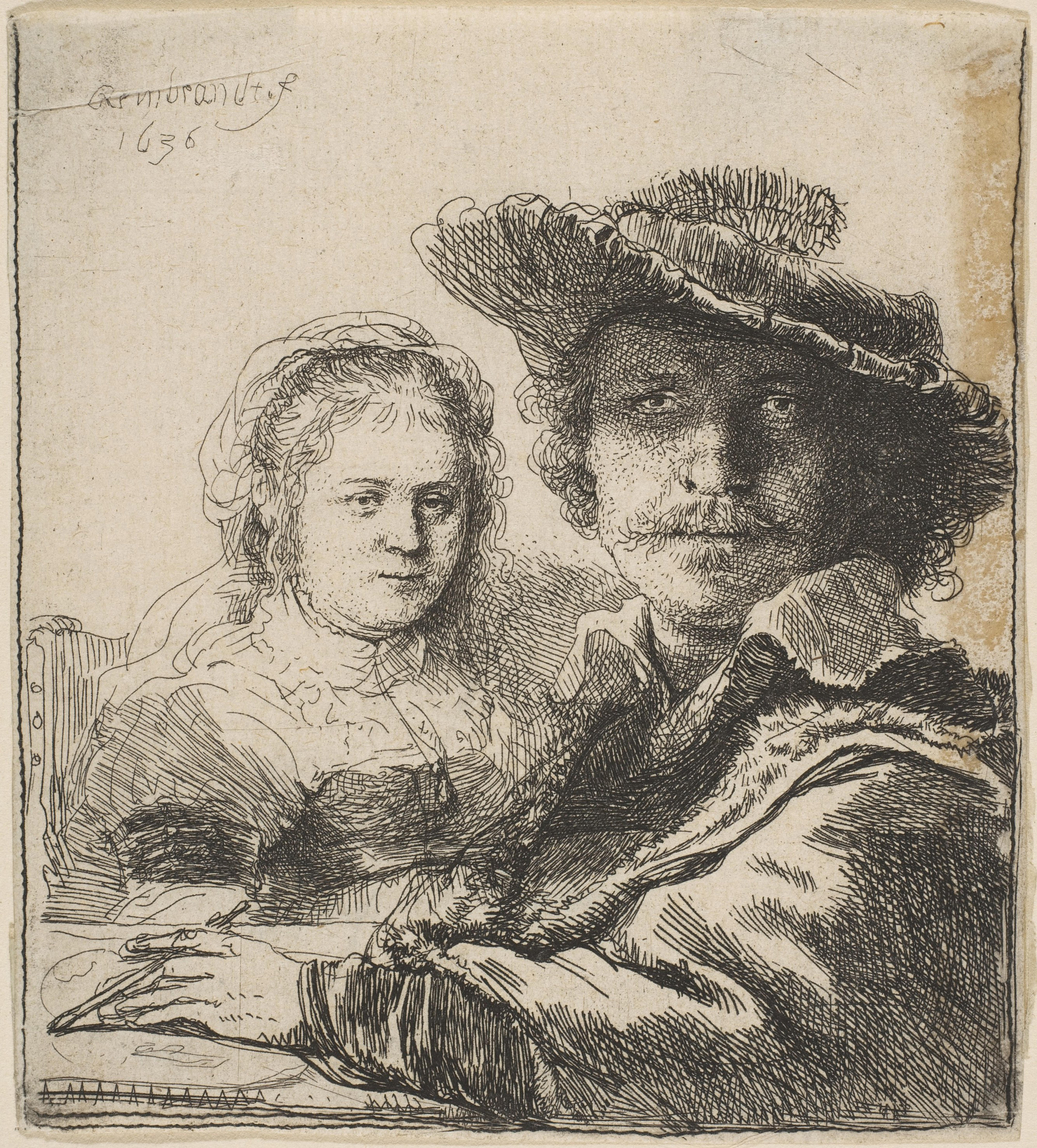 "Self Portrait with Saskia"; signed and dated: Rembrandt. f. 1636; etching: 104 x 95 mm
Have look into Rembrandt's life through virtual reality. Visit our Loving Rembrandt exhibition to experience Amsterdam during the 16th century.


How to win?
PLEASE NOTE: THE COMPETITION HAS CLOSED ON 7th JULY

In the center: Head over to our Pavilion Tent and discover the photopod to show your essence of love. Your photo or boomerang will be saved as an entry to win the Rembrandt etching.
Online: Entry the competition online by filling in your details and writing us what love means to you.

The competition starts on 17th May 2019 and ends 7th July 2019 at the latest. The winner will be announced on 15th July 2019 on our website.