Keeping Up With The Bakers
Peer over the picket fence for a glimpse of the Ted Baker SS18 collections everyone's talking about.
The Bakers are new in town and they've already made quite the name for themselves.
Laura Noltemeyer from Designdschungel combines her passion and love for fashion, architecture, writing and travel in her blog. This spring she visited Designer Outlet Neumünster to explore the brand new Ted Baker Store. For all of you who may not know the brand yet, you will find some deeper information here.
ABOUT THE BRANDS
Ted Baker started as shirt expert in Glasgow and become veryfast to one of the most important addresses, if you should find the best modern man's shirt in the area.
Right from the beginning laid Ted great emphasis on quality, pay attention to the details and a original sense of humour. The results of this was that the first store offered a laundry business to take care of the special shirts - the fast growing brand 'No ordinary designer label' as they was givend as nickname. Everything under the name "Ted Baker" was something special.
From Ted you haven´t expected nothing different, than a not changed accession to the marketing of the brand as the first day... primarily from mouth to mouth and unconventional marketing. Many other brand have done this different. Ted is one of the international designer label without an advertising campaign.
MENSWEAR TED BAKER
Stake your claim to the good life in laidback menswear with a quietly competitive streak. Relaxed shapes sport striped trims and performance fabrics – such as neoprene and bonded jersey – to keep would-be rivals on their toes. Impressive details like rubberised zip cords and bungee-style pullers are pointedly placed in the spirit of one-upmanship.
Raise a few eyebrows with offbeat, chalky tones. Cloudy petrol and dusky pink, accented with bright blues and outrageous reds will set curtains twitching all over town. Texture is highly sought-after this season, with a hankering for suede bomber jackets, nylon outerwear, mouliné, and link stitching on knitwear that borders on obsession.
Printed linings attract jealous stares, with enviable depictions of meticulously trimmed gardens making for a cause célèbre. Bags fit right in with the sports luxe trend with their rubberised leather finish. New scuba fabric shapes are a tantalising addition, the branded webbing and orange contrast zip pullers the subject of fierce fascination.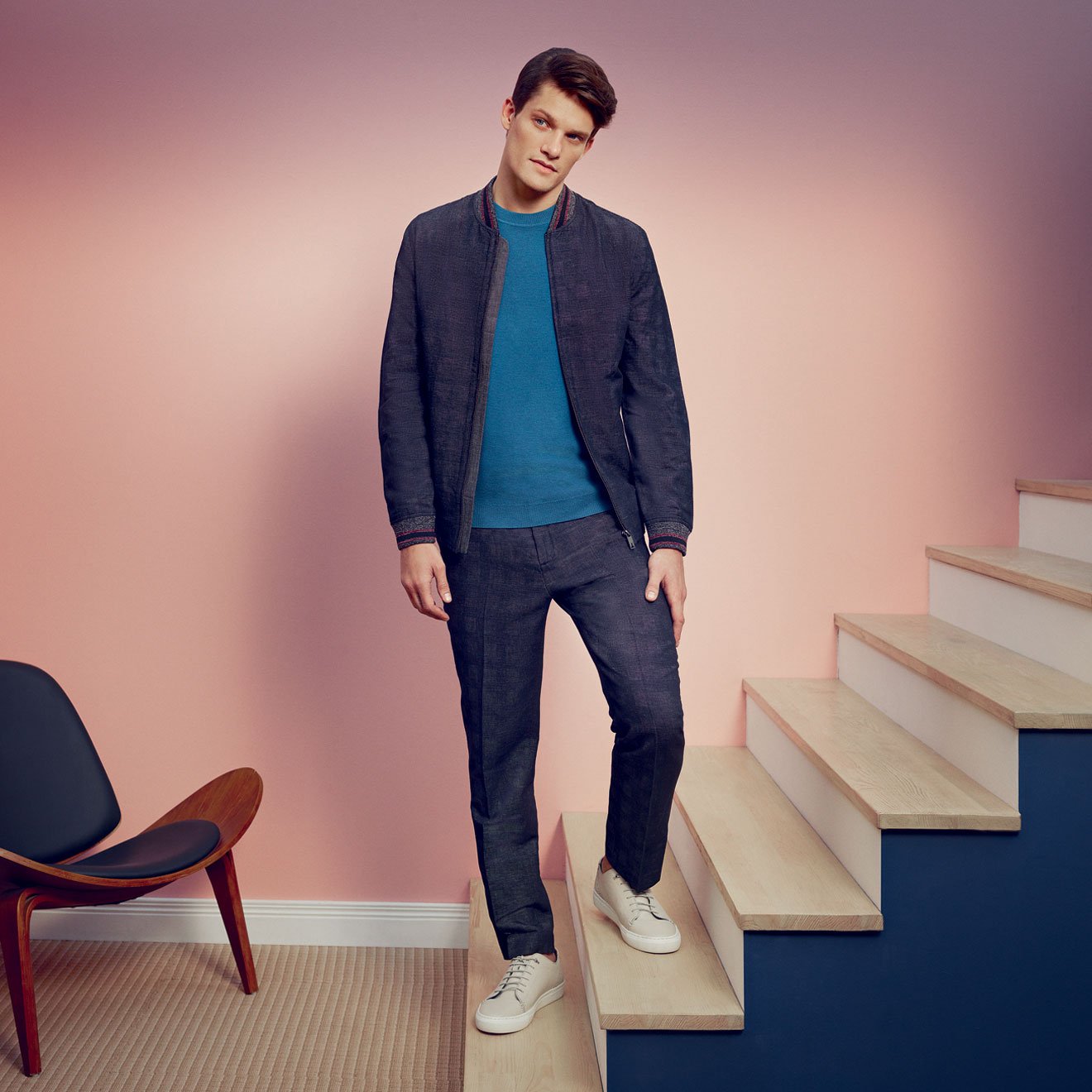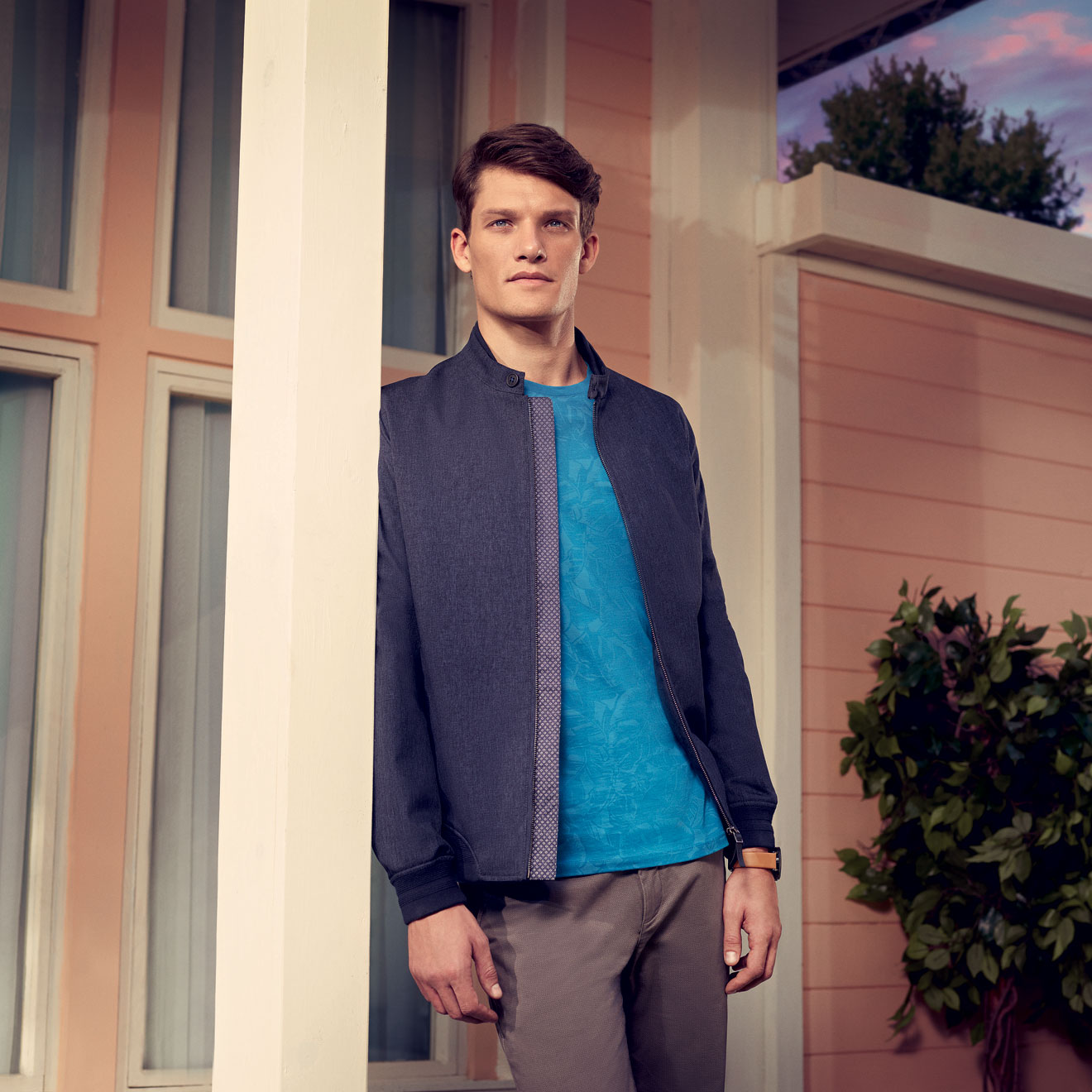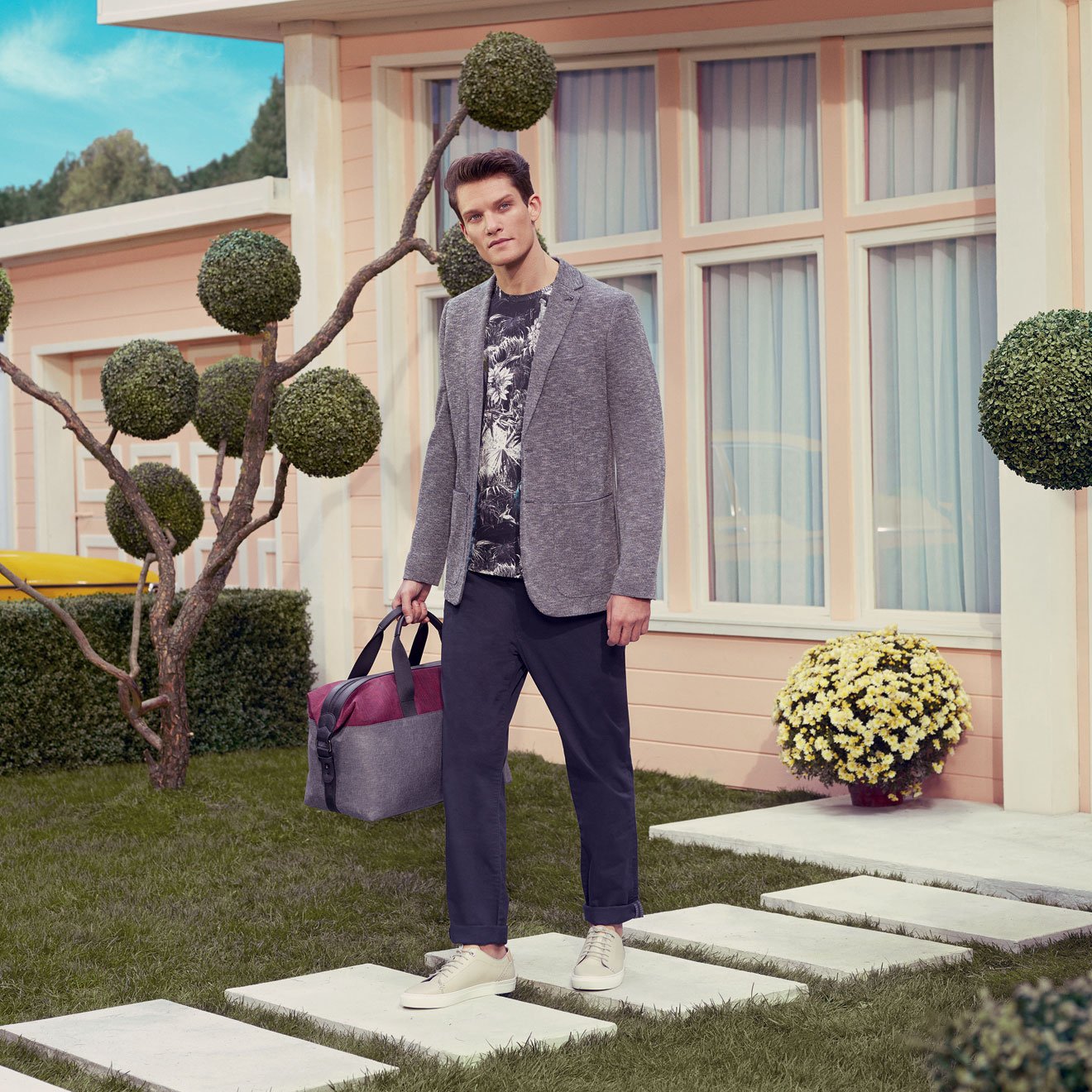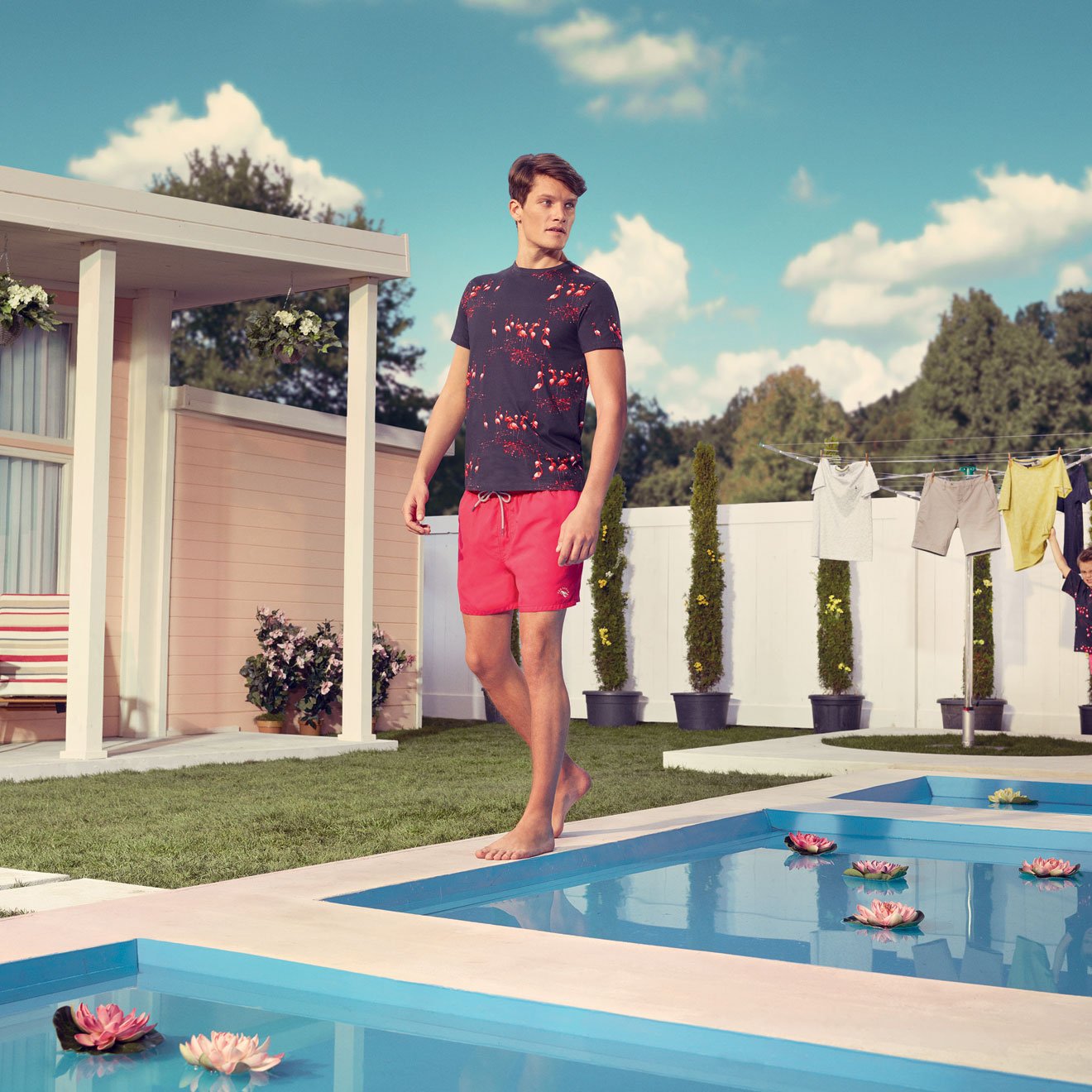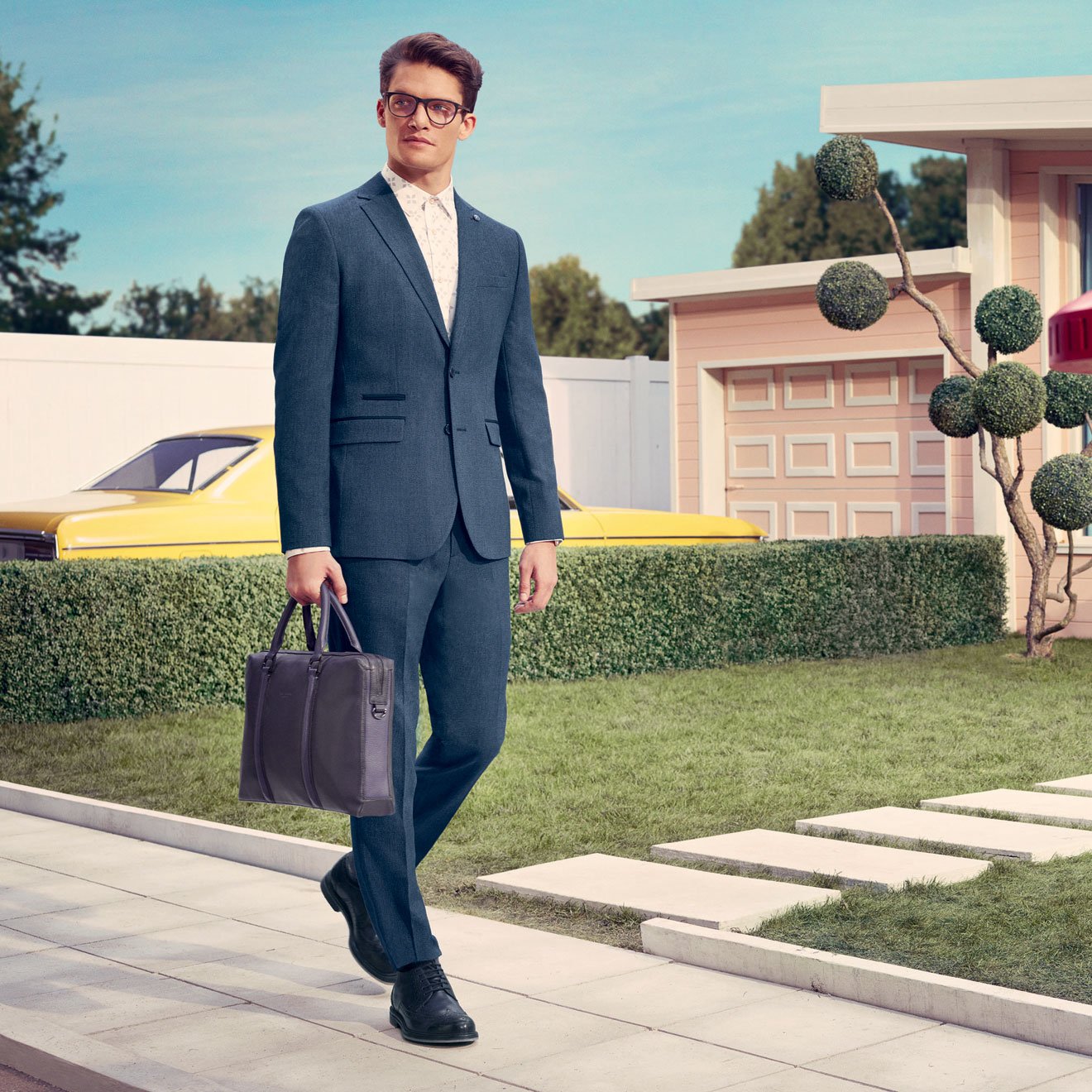 WOMENSWEAR TED BAKER
Ted's womenswear causes a stir this Spring Summer with brazen femininity and unabashed romanticism. Classic silhouettes boast pristine lines and architectural folds across pieces in which to see and be seen. Soft shades of silver grey, cream and pretty pink form a delicate palette, accented with audacious pops of shocking pink, canary yellow and cobalt blue to pique one's interest.

Textures are beyond reproach, with all the juicy details dished out and placed just so: sheer burnout organza, lustrous satin and printed jacquard embellished with 3D flowers, a few of the gossip-worthy highlights. Prints are unrivalled, with hand-drawn manicured gardens, enticing pearls and layered oriental blossoms – nothing short of sensational.
Accessories demand attention, with Ted's signature bow snatching the limelight on strappy stiletto sandals and structured handbags featuring daring statement clasps and timeless top handles. Challenging the status quo are an equally elegant selection of backpacks in a new softer, rounder shape and available in scandalous pastel pink and desirable floral.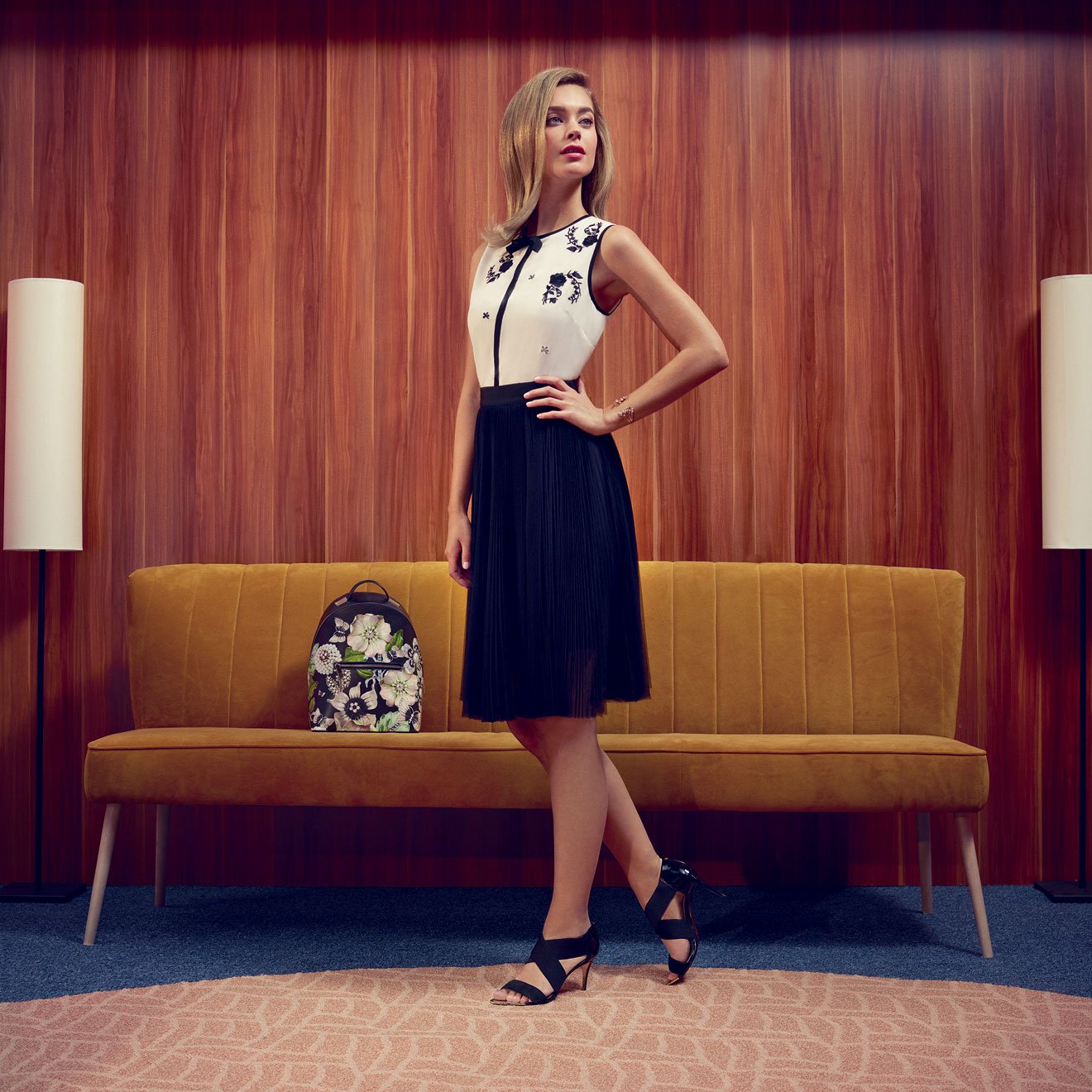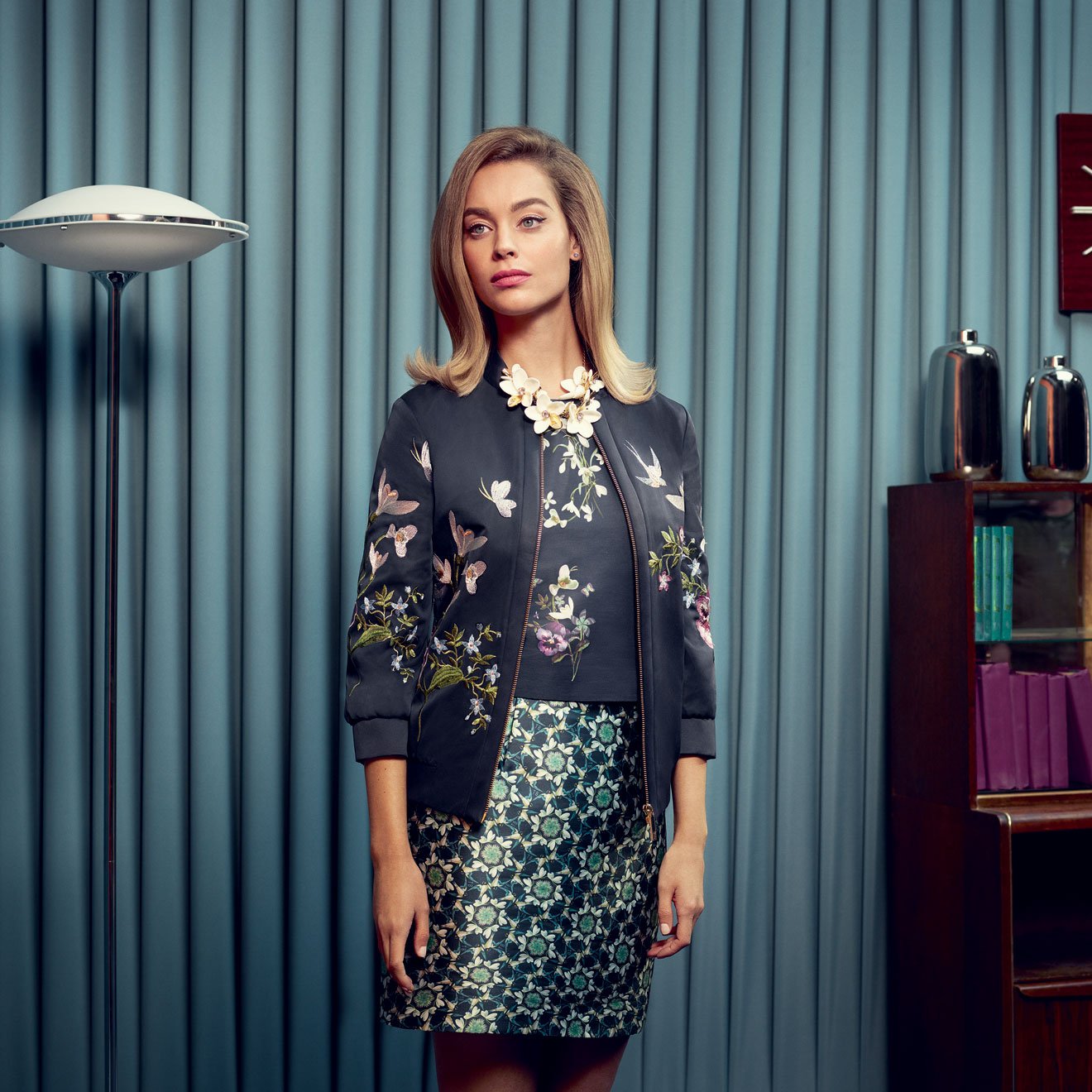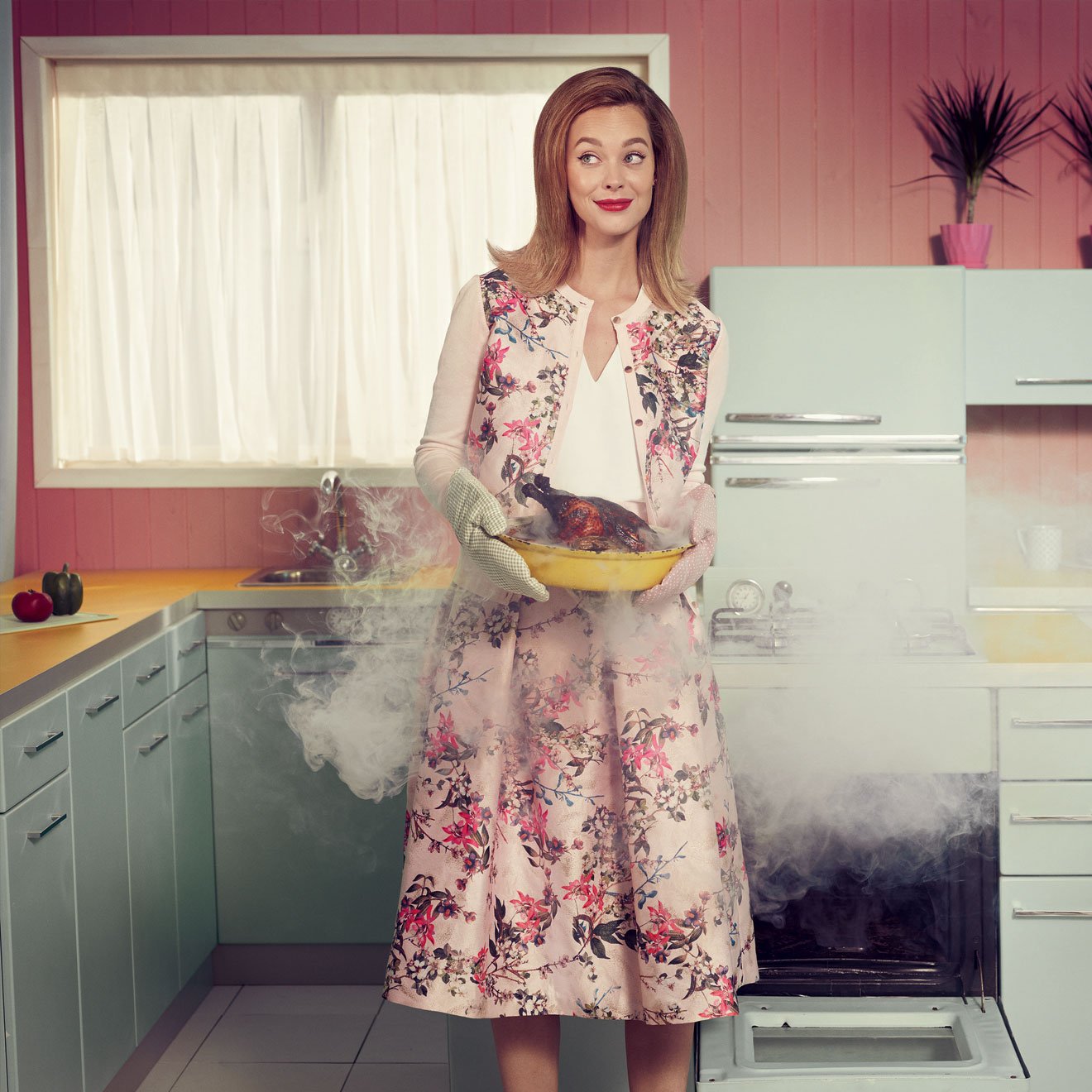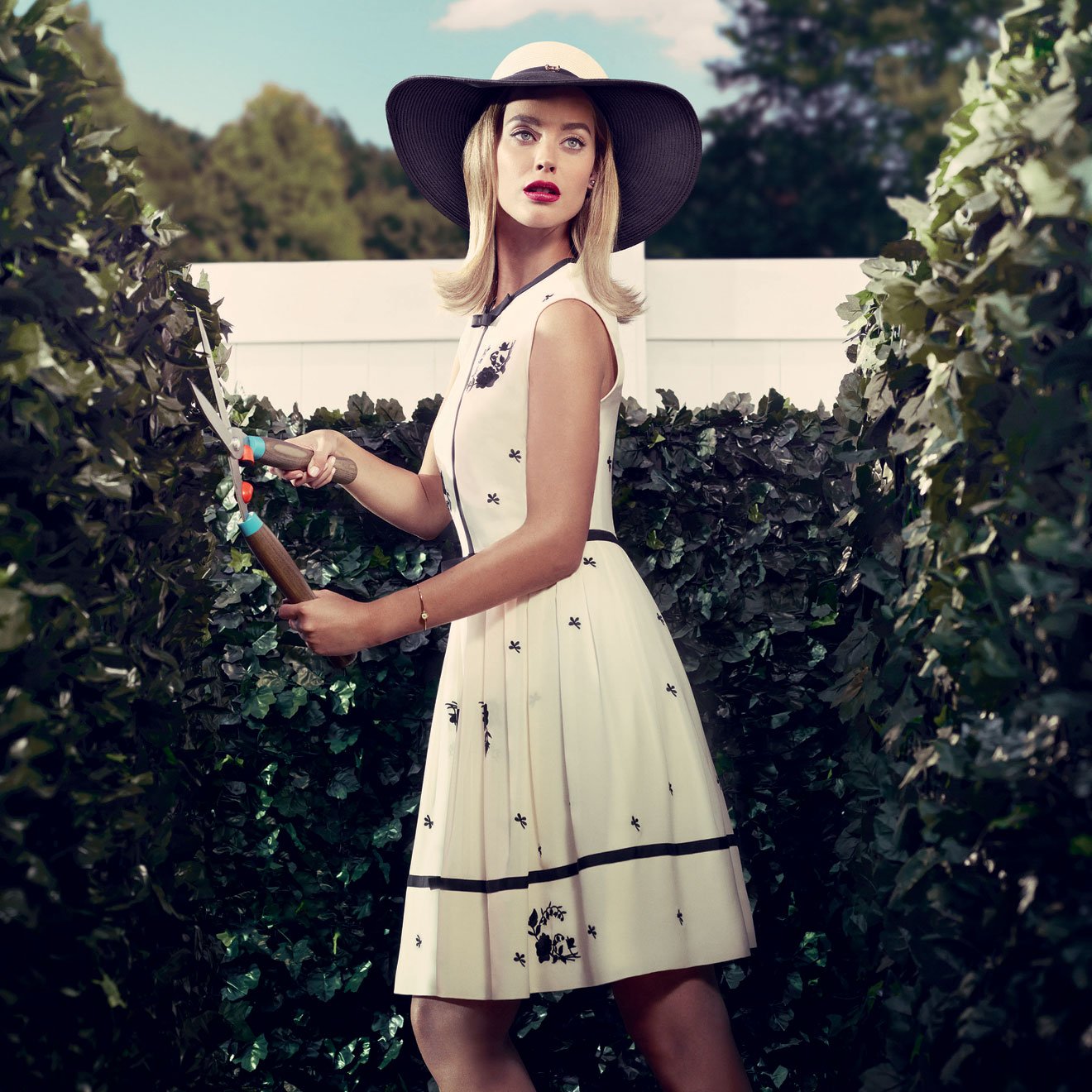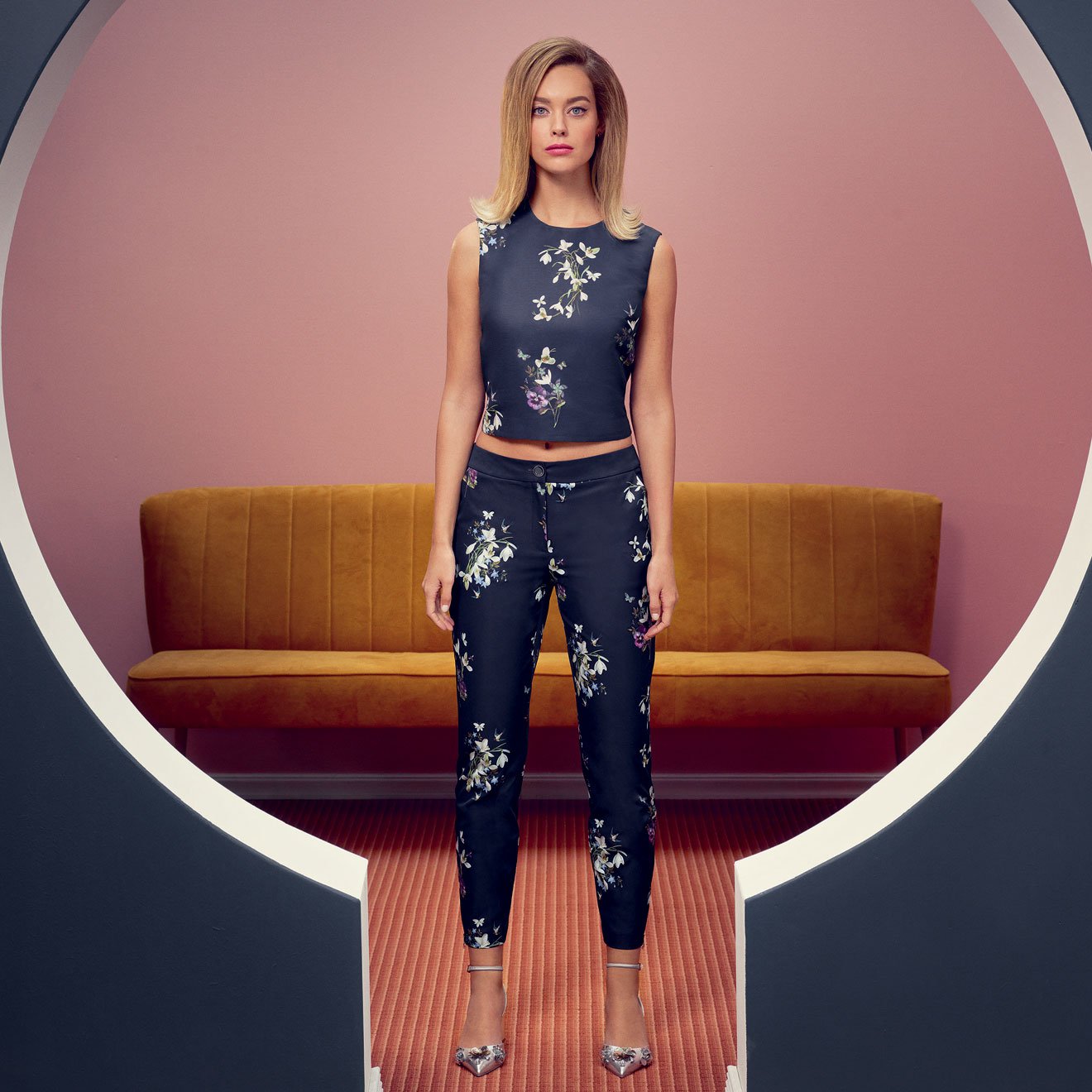 Welcome to the neighbourhood!