Festival Fashion
Simple & stylish
We invited bloggers The L Fashion and My Daily Fashion Dosis to shop their stand-out festival looks for this summer
Festival fashion is as versatile as music itself and as with music, it's purely a matter of taste. From super practical to runway-ready, you'll find almost any outfit at festivals. There are no limits to creativity here. We invited bloggers The L Fashion and My Daily Fashion Dosis to shop their stand-out festival looks for this summer
First up: The L Fashion...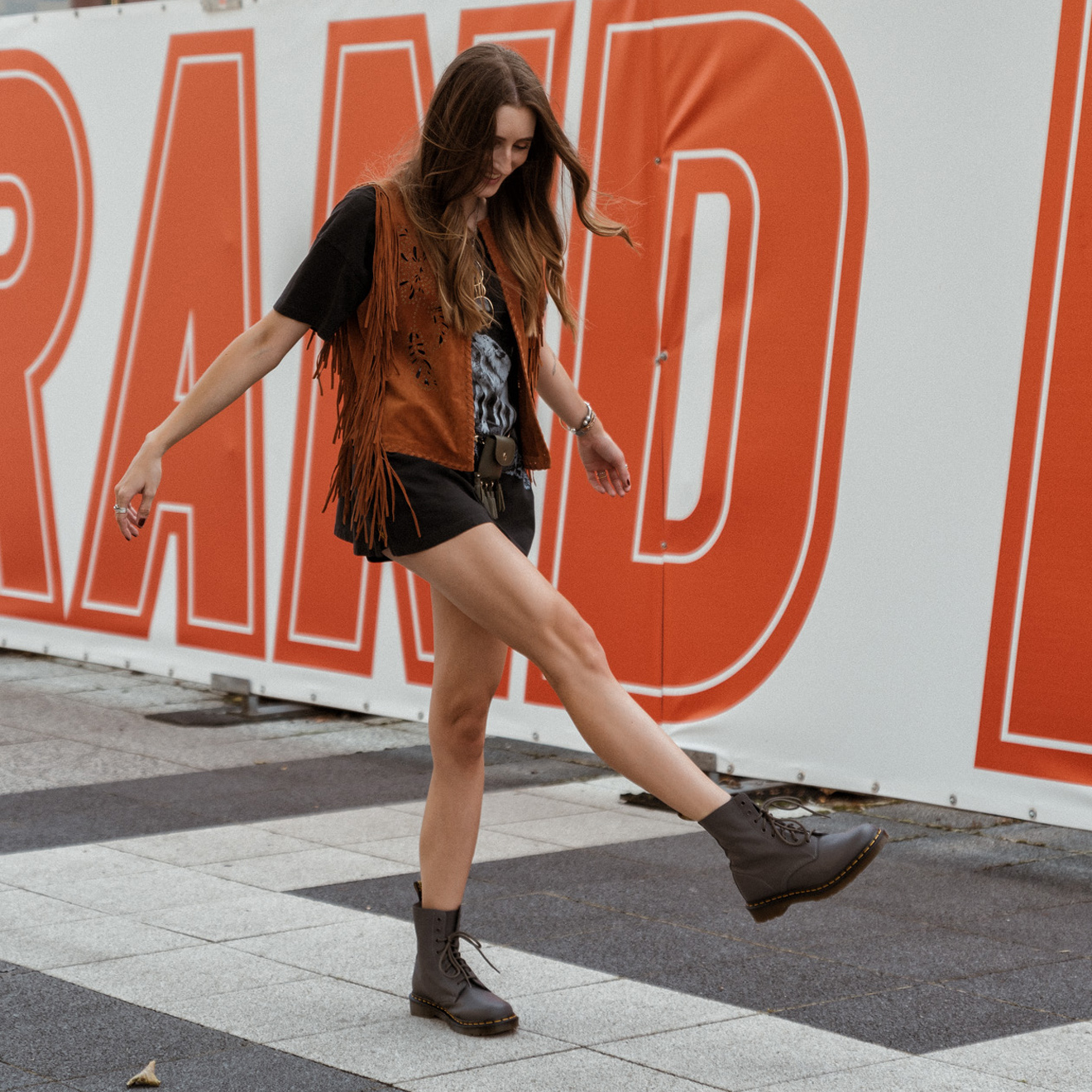 Festival Look: Vintage Western
"For every festival, you need a pair of sturdy, but stylish boots. I found my perfect pair at Dr. Martens. Category jeans shorts can be found at Levi's, Lee Wrangler or Mustang and at All Saints, I found the perfect oversized print T-shirt in a Vintage style - which would also work great as a dress. I just couldn't stay away from this leather fringe vest at Pepe Jeans either. The western style will probably remain my festival favourite forever."
Outfit:
- Fringe Vest: Pepe Jeans
- Boots: Dr. Martens
- Shorts: Levi's
- Bag: Aigner
- T-shirt: ONLY
- T-Shirt Dress: All Saints
The western style will probably remain my festival favourite forever.
"It is summer and that means that the festival season has begun! I really love to celebrate the summer at all the Dutch music festivals. As it was amazing weather, I was very happy that I could dance in the sun at OH MY! Music Festival in Amsterdam this weekend. OH MY! Music Festival is the largest urban music festival in Europe. As I am a big urban fan I was thrilled to see T-Pain, French Montana, Mya, Wiz Khalifa and many more big artists.
For me going to a festival is more than only buying a ticket and being excited for all the great artists. Going to a festival means also that you can dress up and show your coolest festival look to the crowd. Let them see your freakin' dance moves and amazing fashion taste!"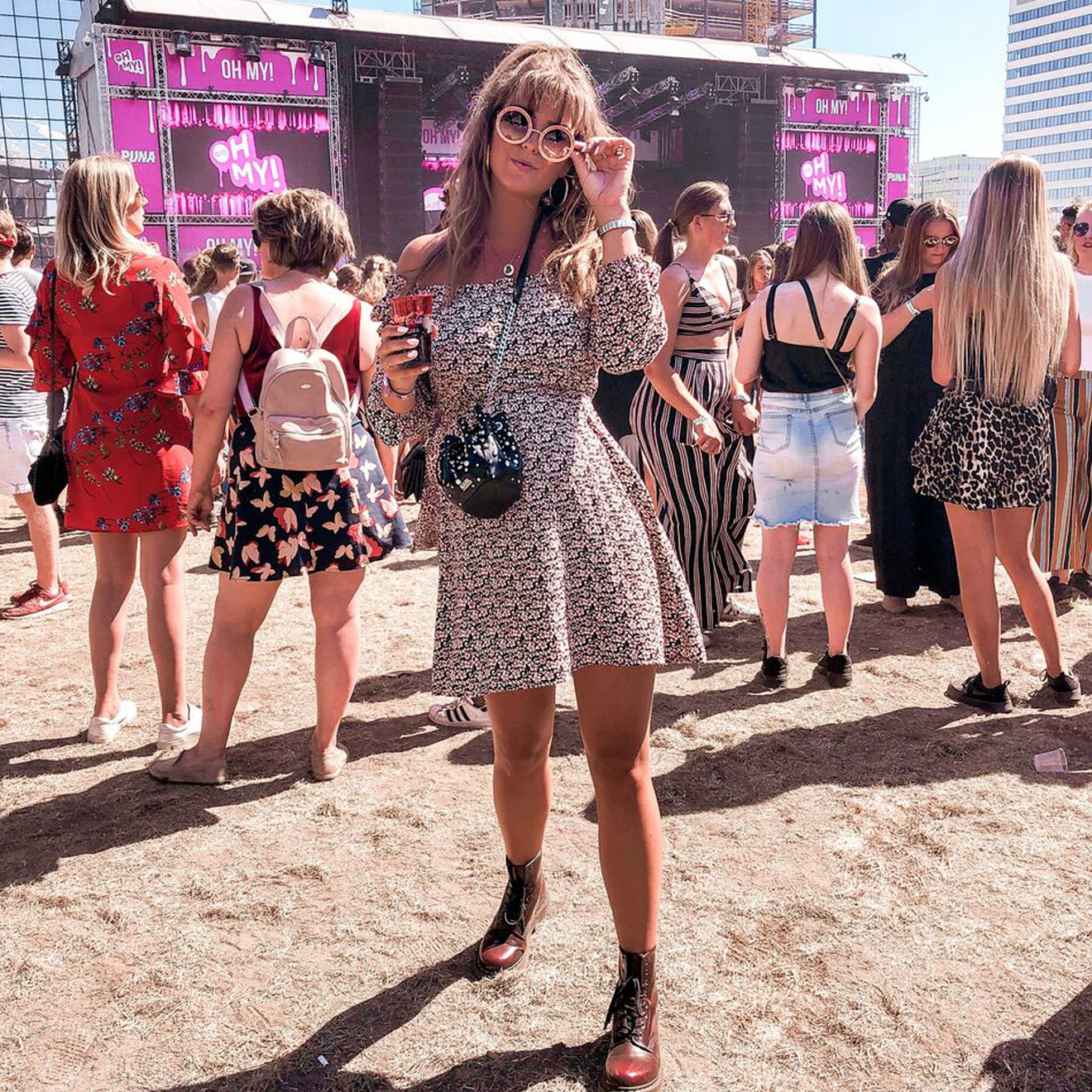 Festival Look: Floral Dress
"My goal was to shop for the ultimate and trendy festival look. I also wanted the look to be easy and lightly dressed, so I can wear this look on a daily base too. Above all the look had to be very trendy. So what are the festival trends this summer? My pick is Floral Dress, paired with statement boots and accessories."
Statement Boots
"There is no limit to the boot's styling possibilities this festival season. Boots with prints, studs, different materials are all very hot. I spotted these very happy flower-printed boots at Dr. Martens. Too bad they didn't match with my dress, but they are an absolute statement. As I really love cool statement boots under a cute dress, I bought the Bordeaux vegan Dr. Martens for my look."
Festival Accessories
"You can only make your festival look complete with the right accessories. This summer nothing is too crazy. You can mix and match different prints with loads of accessories for the perfect festival look. See here above my treasures during my visit to the Outlet. I absolutely love studs, so I fell directly in love with the studded Karl Lagerfeld bag. And how cute are these Dolce & Gabbana sunglasses from the Sunglasshut? Perfect for a festival right?!"
Floral Dress
"The floral trend still continues from previous years and is still very popular. Floral dresses, who doesn't love them? Well, I do! This summer the floral dresses have a retro influence. The flower prints have a vintage look. To make my festival look complete I found this retro floral printed dress at Maje."
Outfit:
- Floral Dress: Maje
- Boots: Dr. Martens
- Bag: Karl Lagerfeld
- Sunglasses: Dolce & Gabbana at Sunglass Hut
The floral trend still continues from previous years and is still very popular