COPENHAGEN is a contemporary footwear brand founded in 2017.
The collections are defined by minimalistic designs, smooth leathers and subtle colours. Capturing the spirit of the Danish capital while embracing innovative craftsmanship. The design studio is located in the heart of Copenhagen. The leather comes from family-owned tanneries in Italy and the footwear is produced by small manufacturers in Europe. All pieces are finished by hand in order to ensure the highest quality.

Living the legacy of the 3rd generation of shoemakers, COPENHAGEN builds upon innovative craftsmanship. Contemporary designs and functional details
characterise every collection. Precision, quality and fairness are at the core of everything we do. With more than 400 partners, own retail stores and a strong digital presence, the brand has grown internationally. Throughout Europe, and beyond. We strive to make minimalistic, high-quality footwear accessible to a large audience, while always staying true to who we are.

Product
Minimalistic and high-quality.
Innovative and hand-crafted.
100 % of our Products
Are made in Europe.

Story
Everything we do is based on our core values: precision, quality, fairness.
It was not a coincidence that the two brothers Johannes and Julian Rellecke founded COPENHAGEN in 2017. As the former founders of the fashion brand Liebeskind, they landed a great success before. Then it became time to fully focus on their roots in footwear.

Inspired by the Copenhagen lifestyle
Copenhagen has always been a source of inspiration. The minimalistic design, the nordic taste, the relaxed way of living. The Rellecke brothers were naturally drawn to it and made it eventually become their own. CPH4 was the first sneaker, and the first breakthrough. White, clean, minimalistic. A high- quality product for a fair price. With CPH40 the second breakthrough followed in the design of a beautiful "ugly sneaker". Less extreme, more minimalistic – another success. They continuously advance their collections with new shapes, smooth leathers and subtle colours, while always staying true to who they are.
Copenhagen
Discover the collection
---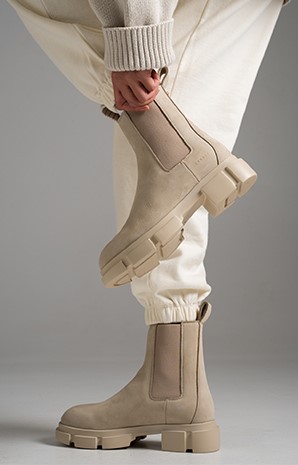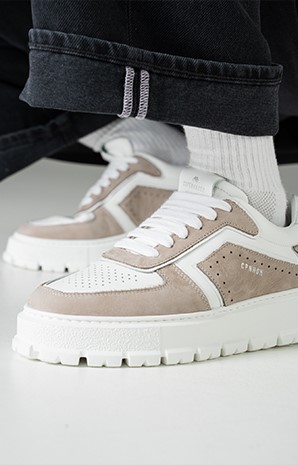 Velkommen
Til Designer Outlet Neumünster
---
Planlæg dit besøg
Vi ligger kun 30 minutter væk fra Hamborg nord og Kiel
Populære tider
Populære tider