VIRTUAL SHOPPING

To make your day a little brighter, Le Creuset is thrilled to offer a virtual shopping service.
Book your favorite produts with a brand sales representative directly:
by: phone +33 9 66 87 69 98
by email miramas.store.fr@lecreuset.com
On Wednesdays & Saturday, from 2.00pm to 6.00pm.


Le Creuset began producing its first enamelled cast iron pots in 1925 from its foundry in Fresnoy le Grand, France. It is from this base that Le Creuset continues to produce its world famous Cast Iron.
Le Creuset has continued to use the hand-crafted techniques and the original process of forging and casting in the manufacturing of its cast iron for almost 100 years, innovation remains at the forefront of Le Creuset's success. This attention to its heritage is also characteristic of the design. The Volcanic Orange Le Creuset Casserole still remains an icon of outstanding quality and stylish design, not only meeting the exacting standards of professional chefs worldwide, but also the highest standards of anyone who likes to prepare food at home; time after time.
Whilst making a very traditional product Le Creuset has always been at the forefront of cooking technology, producing products which suit the way that styles of cooking change and develop. Le Creuset has a pot, pan or dish in a choice of materials and colour, whether it is Cast Iron, 3-Ply Stainless Steel, Toughened Non-Stick or Stoneware, to suit all your cooking needs.
These stunning cooking, preparing and serving kitchen accessories are the perfect addition to any contemporary or traditional home.
Le Creuset
Discover the collection in-store
---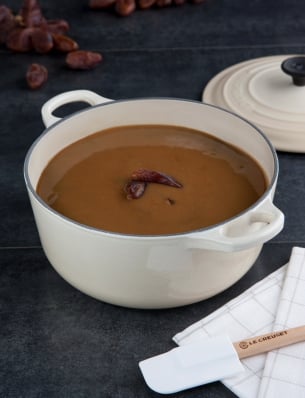 Welcome
To McArthurGlen Provence
---
Plan Your Visit
The McArthurGlen Provence centre is located in Miramas, at the crossroads of 3 major motorways, which positions it only 45 minutes from Marseille, 40 minutes from Aix-en-Provence, and 90 minutes from Montpellier.